What is Fleet Management?
Most customers know managing their fleet is good business. They understand they are probably wasting money and not getting the productivity they want. In many cases the fleet has evolved over time – it's not a planned effort.
Often the stumbling blocks to making fleet improvements are; Who will do it? How will they do it? When will they do it? Customers appreciate that managing a fleet requires planning, resources, and commitment.
It is estimated that 80-85% of the cost of owning a forklift involves maintenance, damage, downtime, misuse, and finally fuel costs. Only 15-20% of the cost is the initial purchase price of the equipment and only 6% of users, on average, actually know what the real cost of ownership is – even fewer employ programs to help reduce this expense.
Optimizing and managing your fleet assets is vital, and the more informed you are the better. The more information you have, the more effectively and efficiently you can improve your facility's operating environment. Therefore, utilizing optimal fleet solutions, like Guardian Fleet, can eliminate avoidable capital expenses and keep your fleet running at necessary capacity.
A powerful fleet management program protocol entails a review of your current material handling fleet to determine and analyze your expenses. Once calculated, it should look for opportunities for possible cost savings. This is done by reviewing recommendations for replacement of equipment and/or maintenance as well as financing and training opportunities, implementing those recommendations, and then monitoring and reporting findings to insure that your fleet remains optimal.
Having a fleet management program in place can help you improve equipment utilization, operator safety and accountability, and increase productivity all using state-of-the-art web-based reporting.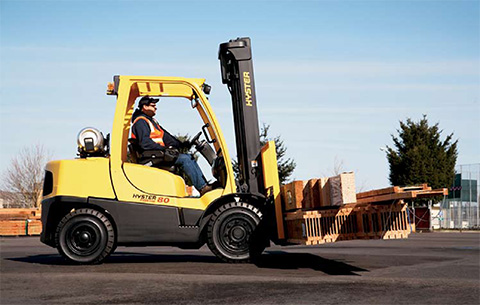 Increase Your Productivity
Improve your productivity and uptime by knowing your optimum fleet size and best use of each unit while operating within the economic life cycle of the equipment to ensure that your equipment is running at its best.


Improve Asset Utilization
Organizations get the most value from their capital investments in equipment by increasing productivity and providing visibility into equipment use. Using material handling equipment efficiently helps make companies aware of how often and how long each piece of equipment is utilized. Over time, asset utilization data can help you determine the need for additional or fewer assets.


Improve Operator Safety and Accountability
When it comes to material handling equipment safety, reducing damage, and having an accident-free workplace, monitoring your equipment and operators at all times is important. By utilizing a fleet management software solution, you can keep an eye on all your assets!


Intuitive Web-Based Reporting
Fleet Management customized reports can help you evaluate overall fleet age and condition, utilization, repair costs, abusive practices, and specific application requirements so that necessary equipment adjustments can be made that will keep you running at optimal condition.